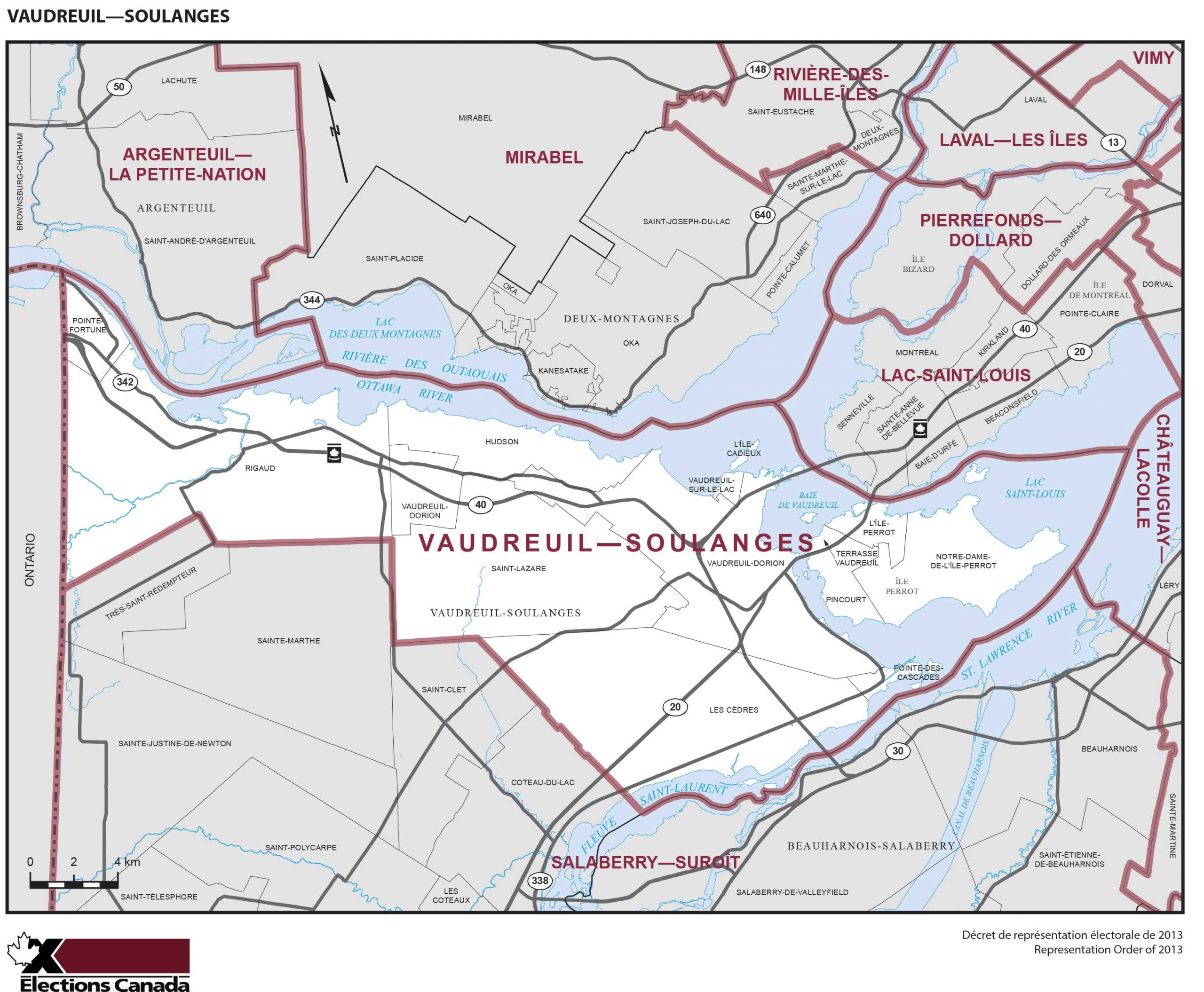 The riding of Vaudreuil-Soulanges is located in the Vallée-du-Haut-Saint-Laurent area, South-West of Montreal. This 408 square kilometres riding is composed of around 112 000 citizens.
The riding of Vaudreuil-Soulanges includes the following cities:
Hudson
L'Île-Cadieux
L'Île-Perrot
Notre-Dame-de-l'Île-Perrot
Pincourt
Saint-Lazare
Vaudreuil-Dorion
Les Cèdres
Rigaud
Terrasse-Vaudreuil
Vaudreuil-Sur-Le-Lac
Pointe-Fortune
Pointe-Des-Cascades
Vaudreuil-Soulanges has many breathtaking landscapes to offer. Whether it is on top of the highest summit in the riding, Mont-Rigaud, or by the river at the Parc historique de la Pointe-du-Moulin in Notre-Dame-de-l'Île-Perrot, the area is known for its authenticity and its natural beauty. Residents and visitors alike travel to the different corners of Vaudreuil-Soulanges to take part in the many festivals that happen over the year. Some of the region's most famous celebrations include the Festival des couleurs of Rigaud, the Festival international de cirque in Vaudreuil-Dorion, and the Festival Au Galop in St-Lazare.
Since October 19th, 2015, Peter Schiefke has been the Member of Parliament representing the people of Vaudreuil-Soulanges. He also serves as the Parliamentary Secretary to the Prime Minister and Minister of Youth, the Right Honourable Justin Trudeau.
"The riding has grown exponentially over the last 15 years. It welcomes families who want to have the tranquility of the countryside and the proximity to work accessible to them on a daily basis. I am proud to say Vaudreuil-Soulanges is now well established as the place to be for families." — Peter Schiefke