5 original ideas to spend a memorable Halloween with the family during COVID-19
October 28, 2020
In these challenging times, I think it's important to create some happy moments with the family. This year we will be celebrating Halloween in a very different way than ever before. But that doesn't mean that you and your children won't have a great time! That's why I wanted to share with you some ideas that I plan to do with my little family that are fun, low cost and safe to do with your little ones this year. Have fun and I invite you to share your creations with me by email at [email protected] or by sending me a Facebook message!
1. Scavenger hunt at home

Whether you do it indoors or outdoors, the possibilities are endless to make this activity interesting and fun for the whole family. You can use flashlights that you have at home and dim the lights for added effect! The goal of this activity is to be creative and have fun, there is no right or wrong way to create this activity and you can use things from home to make it more fun!
Here are a few ideas in case you are not inspired: 
https://picklebums.com/halloween-hunt-free-printable/
https://www.playpartyplan.com/free-printable-halloween-scavenger-hunt/
2. Prepare a spooky Halloween dinner

Use common foods and make them scary or fun! You could even make a menu for the kids by giving special names to the meals you make. Here are a few examples of what you can do: 
3. Halloween sensory bowls

In addition to being easy to do with items you already have at home; this activity will really please the little ones and grown-ups in your home. The principle is simple, put various objects in a tray filled with a gelatinous or granular substance and ask participants to find these objects using only their sense of touch! (e.g.: cook large pasta and cool to imitate worms, peel grapes to imitate eyeballs etc).
Here are some easy ideas:
https://www.lepaysdesmerveilles.com/bac-sensoriel-halloween.html

https://happytoddlerplaytime.com/13-halloween-sensory-activity-ideas/
4. Virtual pumpkin carving contest

Organize a Zoom get-together with your kids and their best friends and have a pumpkin carving contest! Your kids can show off their costumes and artistic talents to their friends! You could then give out prizes such as: the wackiest pumpkin, the scariest pumpkin, etc.
5. Have a homemade Halloween carnival

Decorate the house with the most colorful and wacky decorations and create a carnival that your children will remember for a long time. You can even take different rooms in the house to create activities and give out candy as a prize!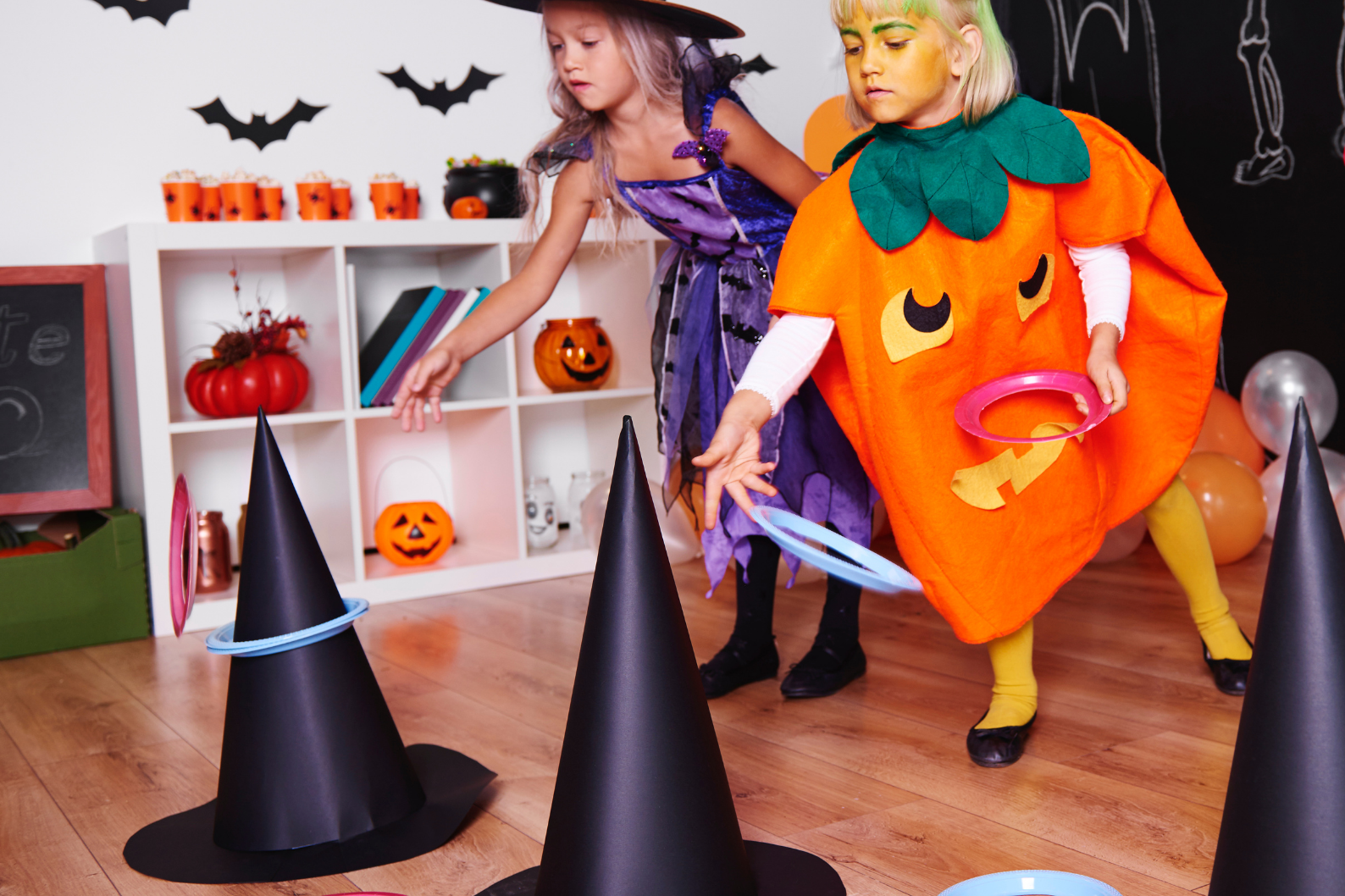 If you still want to go trick-or-treating with the family, the Quebec government has 3 rules to do so safely:
Children - and their parents, for the youngest ones - will only be allowed to go around with members of their household;

Whenever possible, children should collect candies and sweets placed in a place 2 meters away from the occupants of the house they visit;

Under no circumstances should children enter houses.
You can find more details on the Quebec government website.
If you wish to give candy, you can use your creativity to respect public health guidelines. For example, you can use a cord and hang small bags of candy with clothespins so that the children can take them themselves, or you can use PVC pipes to create a candy chute.
Indeed, this is not the Halloween we normally experience, but let's take this moment as an opportunity to have fun and involve our children in the organization of this celebration! I'm sure we'll be able to make this a memorable evening for our children and I can't wait to see all your creations!
Happy Halloween!
-Peter